My name is Hester van den Haak. I started teaching ceramics in 2004. This started out as a small gathering with three neighbours but has meanwhile grown into a company with ten lessons per week. My small studio now holds eight turntables that I designed myself and then built together with my husband.
During my education to become a goldsmith in Schoonhoven, I also earned the international diploma of the 'Fellowship Gemmological Association of Great Britain' (FGA). This course taught me a lot about the compositions, properties, and colours of gemstones. Nowadays, I still use this knowledge to develop and experiment with glazes. Moreover, I studied 3D-design at the Art Academy of Utrecht. This taught me how important it is to adapt the shape of a product to its intended use.
The personal ceramics of Hester have a natural and minimalistic style. Themes from nature are incorporated, such as birds, fish, plants, and insects.
Moreover, a lot of inspiration is taken from the Japanese ceramics style. Therefore, you will often see differences in texture and contrast, or subtle tone differences in the glazes being applied.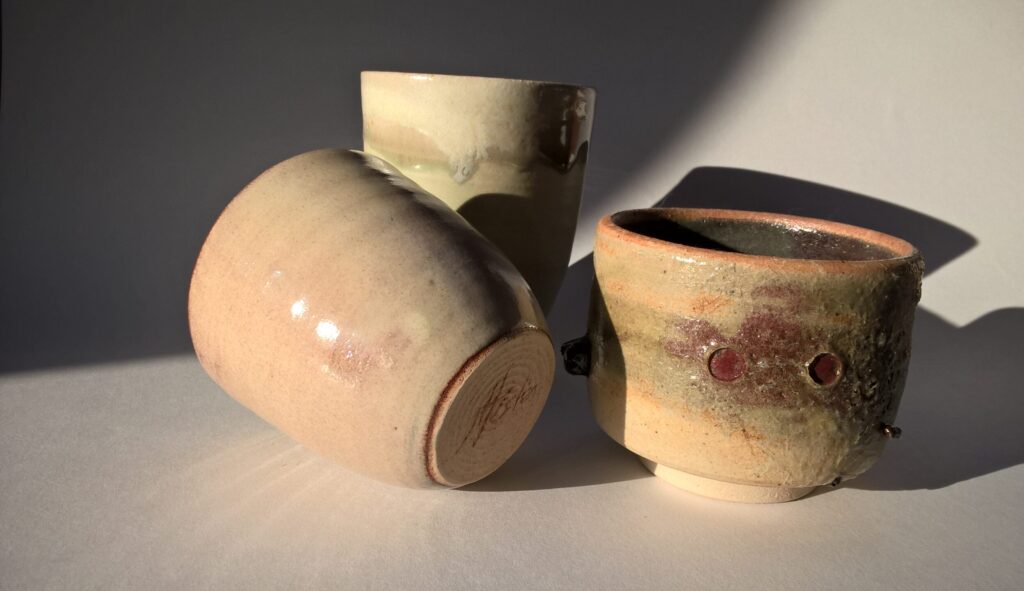 Besides teaching courses, a large part of my daily activities consists of keeping the workplace going. This includes recycling the clay, packing and sorting the ceramics ovens and developing new glazes.
Additionally, I am always working on my own ceramics. This includes designing, doing colour research and experimenting with forms and materials.
My name is merel. I have been working within my mother's company since 2019. Currently, I am finishing my study in psychology and learning to code on the side. I have applied this knowledge while designing this website. Next to this, I enjoy being responsible for the communication and helping with the organisation and expansion of the company.